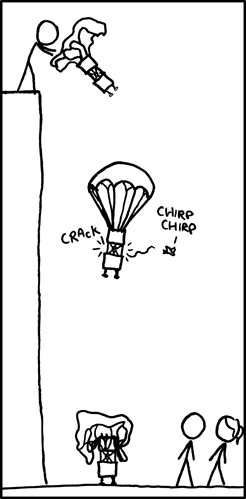 I was in the special program in elementary school, which sent smart kids, once a week I think, to do puzzles instead of regular class.
My egg drop device was a plastic bottle with the egg suspended in a harness. It worked well.
The coolest looking device was an egg wrapped in long balloons, the kind clowns use, but it failed.
One kid didn't put an egg in his, which was discovered after the drop. I don't know if he tried to cheat or just forgot.
My "Hobo Wine" cider was a success! It was drinkable, but was better mixed with regular cider.
I used less sugar than the original recipe called for, but still it was probably too much, since the cider tasted too alcoholic. On the other hand, the fresh cider livened it up, so perhaps it's better strong for mixing.
It also developed a cinnamon-y flavor, which was a really appropriate for a Fall harvest feast. Scared as I was to have people try it, self-fermented alcohol is decidedly a good thing to bring to a pot-luck dinner.
This is what the Hobo Wine label looks like if I wanted to make it into a CD cover:
Sent to my NY gov peeps:
SUNY and New York's Future

Dear (Mr. Governor | Mr. Senator | Ms. Assemblywoman | Mr. Assemblyman),

My name is Leonid Domnitser. I am a senior computer science student at SUNY Binghamton, and I intend to apply to the graduate computer science program, also here in Binghamton for next year. I am writing to urge you to oppose the tuition hike and budget cut proposed for SUNY.

Tuition is going up $300 next semester at Binghamton, but the university will only get $30 of that money. I understand that the state needs money, but higher ed is not a tax bracket–it is an investment in New York's future. My field of computer science flourishes in California, but I chose to stay in my home state because I trust New York's commitment to education. Even small steps like this weaken SUNY, which weakens New York's economy in the long run. The best professors will take more lucrative jobs, and students will move to other states.

Now is an easy time to farm some extra revenue from students, but dropping this investment now is unwise. It's a tough economy, but Warren Buffett [1] recently wrote that now is in fact the best time to make smart, long-term investments in America. That applies at the state level, too, and education has consistently been one of the world's best-paying investments.

In fact, education spending is more important than any other investment for the state government to make, because it can't be left to private investors. Without sound public education, including higher education, inequity among the state's diverse regions and cultures will grow. That is a decision about what kind of culture we want as a state. Please make the right choice.

[1]: http://www.nytimes.com/2008/10/17/opinion/17buffett.html
Tuesday, 11 November 2008
Make time and watch Dark Days. Marc Singer went down into the NYC Amtrak tunnel that some homeless called home, and filmed them cooking food, smoking crack, playing with their pets, and telling their stories. I don't want to give any spoilers, so I'll just say that Singer picked a good time to film.
It's on Google Video. Thanks, Waxy.
Thursday, 6 November 2008
I quantified the unfairness of our indirect election process. Then I made badges.
My New York vote counted 0.74 times!
How about yours?
Wednesday, 5 November 2008
NYT:
Among the more unusual measures on this year's ballots was one in Florida that would repeal an old clause in the state constitution that allows legislators to bar Asian immigrants from owning land. The repeal would be symbolic, as equal protection laws would prevent lawmakers from applying the ban. With 78 percent of precincts reporting just before 11 p.m. Tuesday, the vote was close, with 52 percent voting to preserve the clause.
Really.
Also, the California thing is a big loss for the state's role in American culture. I guess the east coast will have to be extra gay for a while.
(Off-topic: congratulations Obama and Democrats, please try hard at fixing stuff and being decent.)